Thomasville, Ga. (June 26, 2020)–Cleaver-Brooks has been recognized by the Air-Conditioning, Heating and Refrigeration Institute (AHRI) for achieving a 100% success rate in its Commercial Boiler Performance Certification Program for three consecutive years. This certification validates that performance claims made by Cleaver-Brooks about its products are accurate and rated uniformly.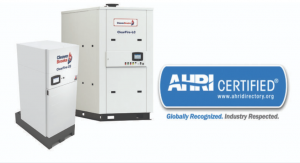 "We are committed to developing innovative boiler room technology and systems that lead the industry in safety, reliability, efficiency and sustainability," said Earle Pfefferkorn, president of Packaged Boiler Systems for Cleaver-Brooks. "Certification from AHRI assures our customers that Cleaver-Brooks boiler systems will achieve their stated efficiencies under normal operating conditions."
To earn AHRI certification, products undergo rigorous testing by independent laboratories contracted by AHRI. Equipment and components are evaluated using the appropriate industry standard to certify that published performance ratings are accurate.
In the commercial boiler category, independent laboratories verify both thermal and combustion efficiency.